Telecommunications and rail network modernisation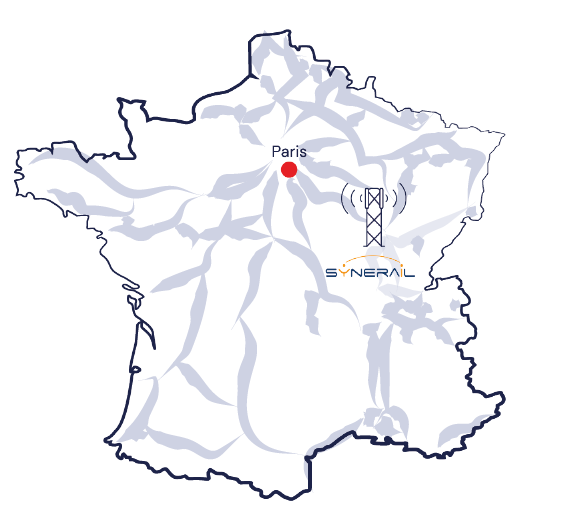 The GSM-R system, which went into effect in 2016, supports SNCF Réseau's main priorities: digitalising information to facilitate real-time communication with trains by transmitting digital data while improving the quality of verbal communications between drivers, traffic operators, and traffic regulators. This system also warns of danger by allowing a train to issue a radio alert to stop other trains located in the same area. In addition to improving voice quality compared to the old analogue system from the 1970s, this system is monitored in real-time, guaranteeing excellent service availability.
What is GSM-R?
GSM-R is a modern digital system that creates a mobile communications network for railway personnel. It replaces the now obsolete analogue track-to-train system with a standard European system for:
Communication
Communication between drivers and traffic regulators
Alerts
GSM-R issues radio alerts to all trains in a given sector
Data sharing
Communicates signaling data between on-board and track-side systems
Management
Managing the priorities of calls
Availability
High network availability
What does this technology do?
This technology facilitates network communications by optimising rail traffic, which in turn improves the safety of operations on France's national rail network. GSM-R has contributed to the creation of a European rail system by offering a standard communication system used by all rail networks, replacing the 35 different radio systems that were used.
A 6-year project
2,200 radio sites
12,000 km of track equipped
3,600 BTS sites operated and maintained
29,000 SIM cards installed
1,800 km of fibre optic network
Financing
€30 million, including 80% from the private sector

In May 2020, the project was refinanced for the mutual benefit of SYNERAIL and SNCF Réseau
Operation and maintenance
Operation and maintenance of the GSM-R system on 16,000 km of track, including 12,000 km directly equipped by SYNERAIL
99% availability required for critical sites, i.e. less than 8 hours of downtime per site per year
A guarantee that GSM-R services will be restored within 4 hours, 24/7
Sustainable renovation of the network
The GSM-R project shows how Public-Private Partnership models can be used to modernise or renovate existing infrastructure. For the SYNERAIL project, the use of a Private-Public Partnership model made it possible to identify and isolate network renovation costs and ensure allocation of a long-term budget to harmonise communication systems throughout Europe and speed up the deployment of a standardised high-performance system on France's rail network.
Beginning in the design stage, SYNERAIL decided to use reliable and resistant materials that had already been tested on railway networks. Innovations were incorporated from the design phase until deployment, with effective bespoke solutions: sharing existing sites and infrastructures and conducting thermal analyses to improve energy efficiency. SYNERAIL committed to outsourcing 5% of the total project costs to small and medium-sized businesses and artisans.